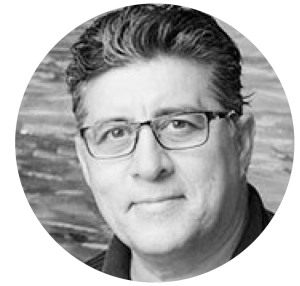 Juan Cristobal Pinochet Araya was born in Chile in 1960. He moved to Quebec City at the age of seventeen. He graduated from high school at the "Petit Séminaire de Québec" and received his bachelors' degree in marketing and communication at the University of Ottawa. During his twenties he was part of a portrait artists' group in old Québec. Cristobal took part in regular life drawing workshops. He also assisted and taught at his mother's art school.
In his thirties Cristobal painted numerous portraits in pastels and created paintings in oil, pastel and acrylics: landscapes, cityscapes, figures, still-lifes and others.
He was a former member of the Institut des Arts Figuratifs, the Académie International des Beaux Arts du Québec and the Pastel Society of Eastern Canada. He teaches in Montréal, Québec City, Charlevoix and other regions. He participated in more than 50 group and solo exhibitions, seven of which were in Europe.
Cristobal was twice finalist at the National Art Conquest of Reves d'automne in Charlevoix, won a gold medal from the city of Yvetot in France, and the Merit Certificate from Parliament in Ottawa. He holds the title of Pastel Master from the Pastel Society of Eastern Canada and the Title of Master in Beaux Arts from the Academy International de Beaux arts du Québec.
Cristobal was featured in many publications and art papers from specialized magazines and was Painter of the Year in Quebec City in 2013. He was a jury member for the Pastel Society of Eastern Canada, the National Conquest of Reves d'automne, and at the international exhibition of Art du Pastel en France.