Description
Beginning-of-Autumn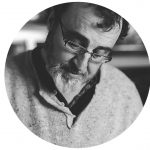 Pierre Bédard was born in 1960. By the age of fifteen, it was already too late to step back and change the course of fate: Pierre Bédard had just been stung by the bug that transmits the incurable virus of artistic creation. Artist one day, artist always!
After completing a professional course in photography, Pierre enrolled in college where he undertook studies in visual arts that left him to thirst for more. Although he did not like teaching the arts in general, studies has brought him a global knowledge of art and culture.
His works contain a part of realism, but a realism passed through a filter, remodeled, fantasized "to the Bédard way". He admits that he has long since removed all forms of reasoning in favour of a spontaneous, automatic painting. A thoughtless work in action, but one that nevertheless reveals a solid mastery of colour and composition.