Description
Terre Et Mer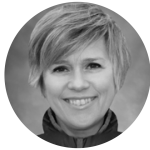 Nathalie Voisine was born in Québec and studied at Sainte-Hélène de Kamouraska QC.
She decided to move from Quebec City to the lower St-Laurent area because there she could enjoy nature, the river, serenity and the great outdoors. She connected with the environment and discovered her passion and inspiration to paint.
For the past 16 years, Nathalie's process of creating her art work usually begins with simple random gestures drawn across the canvas, from that point the subject is determined and she starts bringing her subject to life with a mixture of both vibrant and settled colours plus the movement and strokes of her brush.
Artist Statement:
"I let the forms appear. From the pitted textures of the canvases and transparency of paints, a character is born. My imagination and emotions guide my colourful creations.
I harmonize the work, opening the way for creativity, following the movements of the canvases, emotions lead me through unknown paths.
I am always fascinated by people. I like to see their faces, their expressions and their body movements. I love other cultures and I also enjoy the theatre.
When I work, I put myself into a completely different realm so I can relate to my characters, like an actress playing a role.
I like to create my stories and universe around what forms on my canvases. To me, my paintings are part of my body, my mind and my soul."