Description
To The Sea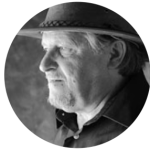 Yvon Lemieux was born in Quebec City,1949. Yvon started painting since he was 17 and he has been an artist for over 50 years.
Lemieux has a nickname "le peintre au chapeau" (the painter hat), which gives a perfect description of the artist. He will set up his easel where his inspiration leads: in the streets of Old Quebec, on the edge of the river to the island of Orleans, and on the Côte de Beaupré or Charlevoix.
In 2005, Lemieux created a magnificent piece at the heart of Ste-Adele. The artwork represents the beginning of the history of the local inhabitants. In the year after, Lemieux was invited by the CIBC, as a guest of an exhibition that dedicated to artist Clarence A. Gagnon, who is the Le-mieux's all time favourite.
Lemieux is also active in art education. In 1988, Lemieux started his own art school. In his free time, Lemieux always participated as lecturer and honorary guest in many symposia and exhibitions both individual and collective.
In the beginning of 2015, Galerie Q is pleased to represent Yvon Lemieux out side of province of Quebec. Please visit the Galerie to see more of Yvon Lemieux's art.